Apartment with a rooftop terrace? Yes, please!
Best Airbnb Apartment in Belgrade
Welcome to our bright, spacious and comfortable top-of-the-building apartment with a huge terrace in the most beautiful & lively quarter of Belgrade: Vračar – with its many cafes, restaurants and the biggest green-market of Belgrade just next door.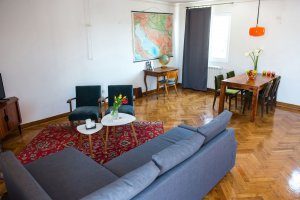 Recently renovated and quiet, despite its central location. The heart of the city center is a 15 minute walk or 5 minutes away via public transport.
Perfect if you're coming with your partner to discover the city or planning on a longer stay 🙂