Opening a McDonalds in Belgrade costs about 1.5 million euro. That's a lot of burgers! Also read the impression of an American visiting the McDonalds in Belgrade.
Once I broke into houses, changed the locks and lived there; once I was a squatter. Squatting used to be a legal way for people to obtain a place to live in Holland. Squatters are mostly left-wing (ex-) students and responsible consumers. The most effective way to get kicked out from that group is be spotted eating at the embassy of capitalism and obesity : McDonald's.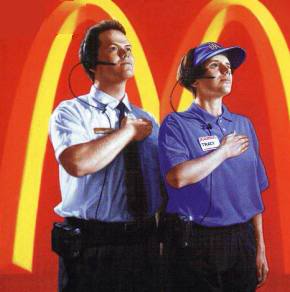 Now that I moved to Belgrade and left everybody behind who can spot and judge me I'm pretty free to do pretty much everything I want. And so it happened that on a bike tour through New Belgrade I found myself ending up in McDonald's. Weather was fine, I just had a 2-hour bike-ride and I was hungry and thirsty.
I could have gone a bit further to find a nice restaurant. Or risk my life eating something in China Town. Or go across the street to get a pizza or pleskavica. But as I'm always open for new adventures, I went for the McDonald's-experience.
As I went to the counter, I noticed the extremely clean kitchen. And the McDonald's girl that helped me wearing a stainless shirt and a freshly washed and ironed McDonald's jeans…
What a difference from the greasy once-white T-shirt strained around the always huge, hanging breast of some big babushka. No cigarette hanging from any of the cook's mouth or women wearing flesh-coloured tights and slippers. And although I looked really hard for one, I couldn't find any cockroaches!
When I checked the menu I didn't see any greasy pizza-slices or 250 gram pleskavica topped with 3 different kinds of sauce (or salad, as sauce is called in Serbia). No, instead I got a decent, rather small hamburger and a normal portion of French Fries. And guess what: The burger was delicious, the fries enough and the price fair.

More often I eat out out than cook at home, simply because going to a restaurant in Belgrade is cheaper then going to the Maxi supermarket (and because I can only cook two things: spinach-curry and spinach-pasta). And so far the cleanest restaurant with the most healthy food in Belgrade I've been to is McDonald's!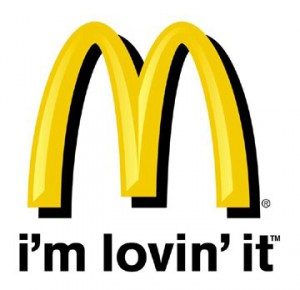 People say that when you get older you loose your social leftist ideals and trade it in for rightish egoism. As for me, from now on I will take my social leftist ideals to the girl with the how-can-I-help-you-sir smile at McDonald's once a month and forget about all of that for 30 minutes. Because I'm loving it!
NB: Some Food for thought: I always wondered why Belgrade adopted 'Belgrade, because I love it!' as the marketing strategy of the city. Maybe because the city-government wants visitors to think that Belgrade is just as friendly, cheap, healthy and clean as Mcdonald's?
Final note: For some really healthy food in Belgrade, or some good fresh juices, get your bike and go to the vegetarian Himalayan restaurant Everest or choose one of the many fresh juices at Elixer. Or get a complete overview and reviews of the best, cheapest, hidden, smallest and biggest restaurants in Belgrade.