-tackling some clichés (and confirming others) by a Dutch Belgradian-
By Paul Geraedts
Ever since I decided to make a move to this beautiful country from my home –The Netherlands- I got this question in many forms. From my Serbian friends, but mostly from my fellow countrymen-and-women, who are sometimes stuck in negative clichés of grey building blocks, unwelcoming people and the dangers of the Balkans lurking around every shady corner.
And they could not be farther from the truth. Much to my personal appeasement, the increasing popularity of Belgrade as a tourist destination is indicating that the city is slowly living up to its potential as a low-budget pearl in the heart of the Balkans. More tourists find out that Belgrade is safe, vibrant and beautiful. But what about the Belgradians?
The inhabitants are what make the city of Belgrade truly great. 'Welcome to Serbia, please feel at home'- is just one of the sentences that you might hear after arrival upon Serbian soil, and it captures the spirit of the Serbian people. Serbs will do just about anything to make a guest feel at home, a characteristic that is very much to the advantage of the weary traveler, preferably those who are willing to put their diet on hold for a while.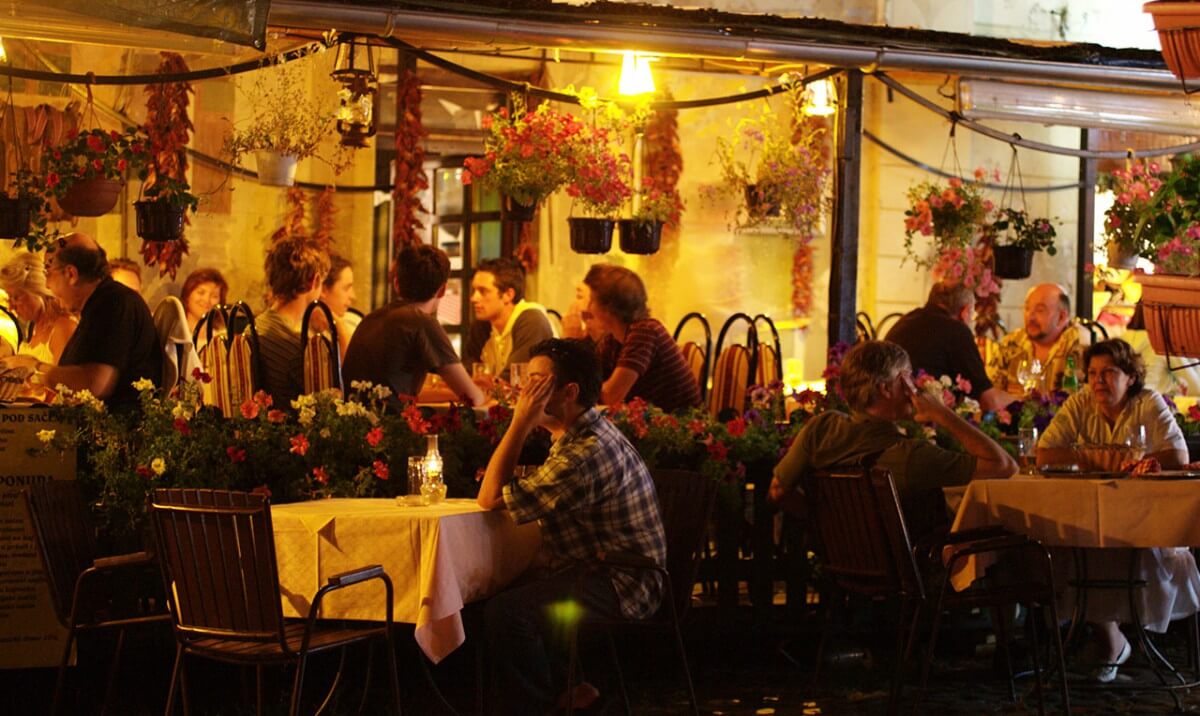 You see, in Serbia everything revolves around food. The cuisine is interesting, as Serbia (and the whole region) was influenced heavily by different cultures, such as the Ottomans, Greeks and Slavs. Many flavors, many things to try. It has to be said that meat is a very important aspect of the Balkan cuisine, and the specialty of the chef is either pork or lamb. For vegetarians the options within the traditional cuisine are often a bit limited, but, as Belgrade is a big city, there are many other good options.
Preferred places to enjoy dinner are the kafanas, the typical taverns that combine all the things the Serbian people cherish so much: good food, drinks and melancholic songs of old time, played by live musicians. Emotions tend to get very intense, as the typical Balkansong is both happy and sad at the same time. Do not be surprised when you hear some glasses breaking; it is a sign that the party is good.
When in Belgrade, do as the Belgradians do, and try the local drink of choice: Rakija. Where the east Slavic countries drink vodka, the South Slavs drink rakija, and lots of it. The usual type is shliva, and it is made out of plum. Other types of rakija are quince, walnut or honey. Rakija culture is a very serious thing, and the drink is very strong. So judging from own experience I would say: watch out, it will get you hammered pretty easily.
So why would anyone ever consider this incredibly dull (ahum!) city as an option to travel to? Now you know. I could give a hundred more reasons but the truth is: you will have to see it for yourself. I might be slightly biased, as I have been living here for a good while now.
But few places have captured my soul in the way that Belgrade did, and few places have been so incredibly welcoming to a Dutchman on the drift. So živeli! (cheers!) and make yourself feel at home in Beograd!